Edgescan Platform Demo
One platform.
Five full-featured solutions.
The Edgescan platform eliminates the need for tool configuration, deployment, and management. By providing vulnerability intelligence and remediation information along with human guidance and vulnerability verification. We help our customers prevent security breaches, safeguarding their data and IT assets.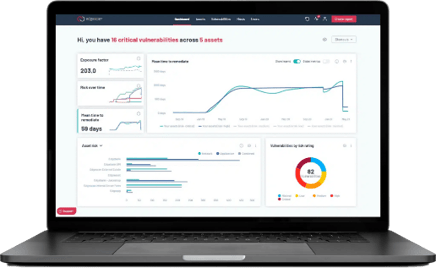 Sign up for a demo of the platform and you'll see our unique approach that integrates these five full-featured solutions:
Penetration Testing as a Service
Hybrid approach that combines the breadth of automation with the depth of human assessment.

Vulnerability Management
Complete full-stack coverage that provides validated and actionable vulnerability intelligence on potential threats and risks.
External Attack Surface Management
Continuously scours and maps your global IT ecosystem to identify security blind spots and attacker-exposed assets.

Application Security Testing
Inspects every web application, host infrastructure and cloud resource looking for exposures.
API Security Testing
Identifies and probes active endpoints and then proactively monitors network changes.
"The accuracy that comes with human validation, paired with the efficiency of automatic and continuous scanning, means that my team now knows that whenever a vulnerability is flagged, the vulnerability is there, and they can continue working until they find it and fix it."

– Archroma Life Enhanced
Edgescan requires the data you provide in order to share product information. By submitting this form, you agree to our collection and use of your information in accordance with our Privacy Policy. You may opt out at any time.


Copyright © 2023 Edgescan All Rights Reserved |

Privacy Policy


Dublin: Unit 701 Northwest Business Park, Dublin 15, D15 CH256 | New York: 33 West 60th Street, New York, NY 10023