 On-Demand Webinar


FREE ADVICE FROM THE PROS


Risk-based vulnerability management solutions and
how they enable a modern, proactive security strategy.

Join Forrester Senior Analyst, Erik Nost, and Edgescan Executives for this On-Demand Webinar
Erik Nost kicks off the webinar by sharing his perspective on the benefits of a proactive security strategy, followed by a panel discussion with Edgescan security gurus, Rahim Jina and Jim Manico – moderated by Brian Sullivan.
The webinar highlights the following points:
Proactive vs. Reactive: Our experts, Erik Nost, Jim Manico, and Rahim Jina challenge the misconception that proactive and reactive security are opposing forces. Instead, they emphasize how these two approaches can safeguard your organization.

Prevention vs. Detection: Erik Nost introduces the idea that while prevention is the ideal, detection is an absolute necessity. Discover how these two components complement each other to create a robust security program.
The Power of Logging: Jim Manico highlights the significance of detailed security logging for developers. Learn how meticulous logging can lead to early detection of security events, equipping your incident response team to react effectively
Real-World Analogies: Our experts use relatable analogies, including home maintenance and leaky roofs, to illustrate cybersecurity's proactive and reactive components.
Balancing Act: Gain insights into the correlation between proactiveness and the frequency of reactive measures. Explore strategies to balance the two harmoniously for better security outcomes.
Security Personas: Dive into the roles of VRM analysts (proactive), SOC analysts (reactive), and threat hunters (proactive with situational awareness) in building a resilient security program.

The goal of this webinar is to provide you with the most effective guidance that combines practical in-the-trenches experience with valuable strategic insights.
Edgescan requires the data you provide in order to share product information. By submitting this form, you agree to our collection and use of your information in accordance with our Privacy Policy. You may opt out at any time.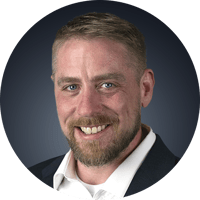 Erik Nost
Senior Analyst, Forrester
Erik Nost is a senior analyst at Forrester serving security and risk (S&R) professionals. His coverage includes vulnerability risk management, attack surface management, breach and attack simulation, and security testing and validation. Erik helps Forrester clients build strategies to increase cybersecurity maturity and decrease risks in their environment.

Copyright © 2023 Edgescan All Rights Reserved |

Privacy Policy


Dublin: Unit 701 Northwest Business Park, Dublin 15, D15 CH256 | New York: 33 West 60th Street, New York, NY 10023